The Indian Railways system is so vast. It's an extremely important means of transportation in the country that there is a separate Budget allocation for the development of the Railways. But among the 60,000 kilometers covered that help connects about 7500 stations, ferrying nearly 20 million people every day, India also provides the best Luxury train experiences in the world.
The history of luxury train traveling in India dates back to the days of erstwhile maharajas who used to travel in opulent personal carriages for purpose of state visits, hunting and personal occasions. In the year 1982, Rajasthan Tourism Development Corporation launched Palace on Wheels in collaboration with Indian Railways to revive the art of elegant traveling in India. Palace on Wheels was launched to promote tourism in Rajasthan and cater exclusively to the overseas traveler and offer them a hassle free, all-inclusive and opulent option of traveling to the royal destinations in Rajasthan.
Curently there are 6 Luxury Trains that ply different routes across various parts of India with a range of pre-packaged itineraries.
The Palace on Wheels
The Deccan Odyssey
The Golden Chariot
Royal Rajasthan on Wheels
Maharajas' Express
Royal Orient Train
There are a few other Heritage trains that offer an equally grand tour of many destinations across India.
The Fairy Queen
Maha Parivarna Train
Toy trains/Hill Trains
The Palace on Wheels: The renowned Palace on Wheels train invites you onboard to witness the remarkable Rajput state of Rajasthan. Along the way, discover desert forts, historic cities and ornate palaces and perhaps glimpse a tiger or two in Ranthambore National Park, all from the comfort of one of the world's great trains.
This 14 carriage, comfortable train, which once carried the rulers of Indian states and British leaders, includes two restaurants, which serve a delicious menu of Chinese, Indian and Western cuisine. The train's bar offers a welcoming atmosphere and there are a number of lounges throughout the carriages. The sleeping coaches, each named after former Rajput states, contain four comfortable en suite bedrooms. There is also a newly introduced spa saloon where you can enjoy aryuvedic massages.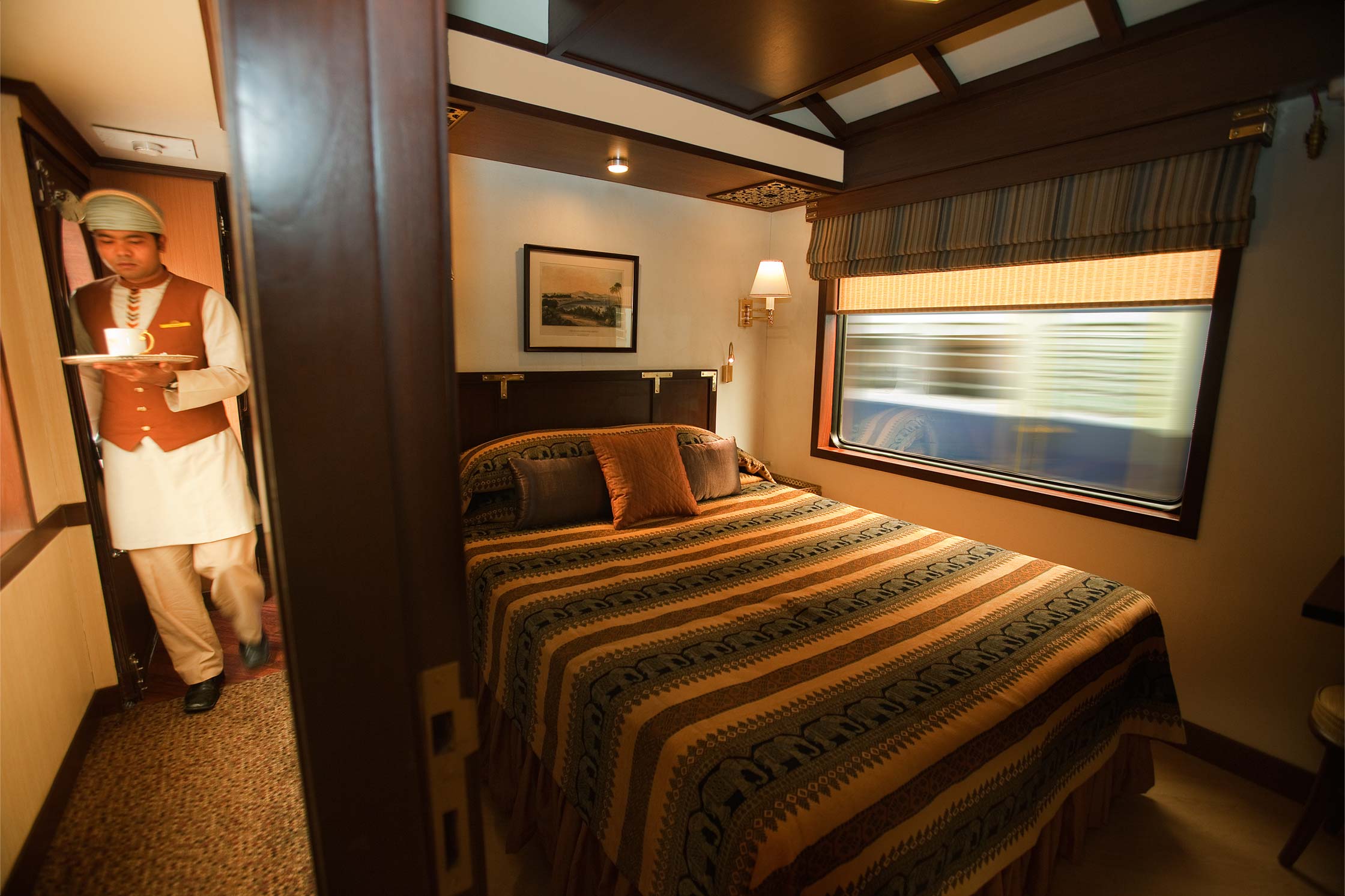 The Deccan Odyssey: From the land of proud Maratha Warriors & Peshwas Rulers, Deccan Odyssey Luxury train Tour was first introduced in Jan 2005 & patterned on same concept as more popular Palace On Wheels train tour This train is a Joint Collaboration between Ministry Of Railways with State Govt. Of Maharashtra & onboard facilities are handled by famous Taj Group of Hotels.
The centrally air-conditioned-Deccan Odyssey train offers passengers to travel in comfort of luxuriously furnished Deluxe Cabins & Suite Cabins with attached bathrooms. Other on board facilities include Dining Car Saloons,Bar Lounge,Aryuvedic Spa,Mini Gymnasium & Conference Saloon The concept of luxury train tours in India is,that overnight you travel from one town to another in comfort of private sleeping chambers & enjoy pre-paid group excursions in each tourist town with services of English Speaking Guide.You have option to book Deluxe Cabins & Presidential Suites.(both with private attached bathroom)

The Golden Chariot: A journey on the Golden Chariot will take you 1,600 years back in time.  The Golden Chariot is your ticket to the timelessness of the historic state of Karnataka, the landscape of which was considered heavenly by empire-builders of the past.  The voyage unveils empires, unlocks treasures, unravels secrets and takes you to lost kingdoms, wrapped in the heady luxury of train travel.   It is another grand way of traversing across the colourful and culturally vibrant southern regions of India.  Extensively travelling through the length and breadth of Kerala and Tamil Nadu, this luxury train offers relaxation to its guests. This regal Train has been built by craftsmen.  Rich culture, palatial architecture and the detailing of temples are blended in the carriage interiors  with the finest modern facilities. There are 19 specially-designed coaches, 11 of the carriages with cabins.

Royal Rajasthan on Wheels: Royal Rajasthan on Wheels is a majestic delight where you will experience the land of regal splendour through a contemporary royal living. Royal Rajasthan on Wheels is a grandiose way to travel through Rajasthan – the magnificent land of numerous kingdoms, majestic forts and palaces, diverse cultures, varied landscapes and vibrant colours. The makers of the Palace on Wheels have rekindled the charm of luxury with utmost consideration of your comfort and modern amenities at the Royal Rajasthan on Wheels. This train is newly built and designed in a contemporary royal style with magnificent interiors, sumptuous meals, expensive wines, and personalized service, the likes of which you would rarely experience.
Every moment is woven together for an everlasting experience to be lived and cherished forever. The magic of the splendid journey on the luxurious Royal Rajasthan on Wheels begins at New Delhi and prepares you to weave the fabric of delightful imagination while transforming it to reality over the next seven nights. Your royal journey begins from Delhi and takes you through various erstwhile princely states of Jaipur, Sawai Madhopur, Chittorgarh, Udaipur, KHAJURAHO, Jodhpur and Bharatpur. After experiencing multi-faceted Rajasthan, you will be ushered to a new exploration at Agra. The entire sojourn has been designed, to take you back into the royal past; thus creating a nostalgic aura. Most enjoyable voyages are short-lived but long remembered. This journey will come to an end at Delhi and mark the onset of your reliving these cherished memories for a lifetime.

Maharajas' Express: A Panoramic view of India's Treasures, Heritage & Splendour, the Maharajas Express Train in most luxurious of fashions operates on 5 different journeys. It has been honoured as the "Worlds Leading Luxury Train" at 2012 & 2013 World Tourism Award function. This luxury train covers mainly North-Western India, Particularly Magnificent Forts & Palaces of Rajasthan with Champagne Breakfast overlooking The Taj Mahal & Exhibition Elephant Polo match in Jaipur.
Operating from October to April, the Train Journeys have been often compared to Orient Express of Europe. It offers world class facilities such as Hydraulic cabins with Individual Temperature controlled panels, attached private bathrooms, Wi-Fi Internet, DVD players and Plasma TV.The salons of the Maharaja Express train draws inspiration from the private saloons of the erstwhile Maharajas of India. Each of the cabins including the dining coupes is suffused with nostalgia of past grandeur. Quaint décor fused together with the contemporary amenities create an aura of sheer opulence and 5 Star pampering inside Complimentary In House beverages and multi-cuisine Restaurant Cars with a comfortable lounge make a perfect experience to relax after exploring the wonder that is India.
You have option to book Deluxe Cabins, Junior Suites, Suites & Presidential Suites The off-board Group excursions & sightseeing trips are included in the journey cost
The Maharajas Express Train is owned & operated by IRCTC (subsidiary of Indian Railways),but it's onboard & off board services have been out-sourced to two different internationally renowned companies. Royal Indian Trains is Authorized Booking & Marketing Agent of Maharajas Express.

Royal Orient Train: The Royal Orient will transport you to palaces and forts steeped in legends of heroism and chivalry. The Royal Orient has been provided with personalised service that only royalty was privileged with. A cuisine truly fit for kings and queens.
The Royal Orient is fitted with all the modern amenities you would experience in a first class hotel. Air-conditioned ambience that keeps the temperature. Down to 15 degrees. The Watering hole Bar with all the favourite drinks and some new ones too.
Running hot and cold water, spacious baths, clean and comfortable cabins, furnished better than many 5-star hotels.
The journey takes the traveller through Delhi, Jaipur, Agra, Jaipur, Chittaurgarh, Udaipur, Modhera, Patan, Ahmedabad, Udaipur and Jaipur and offers a variety of sightseeing and desert safaris laces with dance and music to make the journey truly memorable.

Travel on India luxury trains has become extremely popular. It's an excellent way to explore the country without having to compromise on comfort. Book your journey to India with India Tours and Travel and let us put together for you, a timeless experience as you travel through the times.